Karl Lagerfeld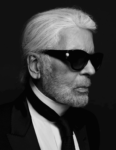 Karl Otto Lagerfeld (10 September 1933 – 19 February 2019) was a German creative director, fashion designer, artist, photographer, and caricaturist who lived in Paris.
Label(s)
Fendi (1965–2019)
Chanel (1983–2019)
Karl Lagerfeld (1984–2019)
Other labels
Jean Patou (1958–1963)
Chloé (1963–1978, 1992–1997)
H&M (2004)
Hogan (2011)
Macy's (2011)
Falabella (2017)
He was best known as the creative director of the French fashion house Chanel, a position held from 1983 until his death, and was also creative director of the Italian fur and leather goods fashion house Fendi, and of his own eponymous fashion label. He collaborated on a variety of fashion and art-related projects.
Lagerfeld was recognized for his signature white hair, black sunglasses, fingerless gloves, and high, starched, detachable collars.

Showing 1–12 of 19 results